This post may contain affiliate links. This means that when you click a link and make a purchase, a percentage goes towards our blog. More details in disclosure. Thank you for your support!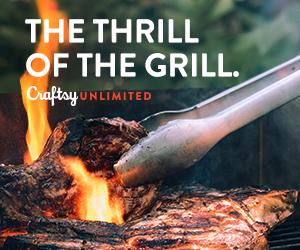 Do you love grilling? My hubby absolutely LOVES grilling! He loves it so much he's happy grilling in the rain. 😉 Fish, chicken, steak, veggies, grilling can be a family favorite, especially in the summer months.
Craftsy is currently having a FREE Summer Watch Weekend! Craftsy Unlimited brings you one-of-a-kind classes from industry experts – all on your own schedule. Starting today, whet your appetite with 10 summer cooking classes that are free to stream all weekend long! From classic pies to mouth-watering BBQ, it's one delicious deal – no matter how you slice it! Can't wait to share this with hubby! You can't beat free, right?
Hurry, this free offer ends June 24, 2018!
Yours truly…
Always Livin' Life with Deals! 😉